Product Description
Resistance of The HNBR O-ring

The HNBR O-ring is resistant to the following media:
Biological oils
Motor oils
Lubricating oils
Miniral oil based hydraulic fluids
Oil/amine mixtures
Sour gas
Dilute acids and bases
Oxidized fuels
Diesel fuel
Vegetable and animal fats
Ozone
HNBR o-rings are made from hydrogenated nitrile specifically designed to provide superior temperature and fuel resistance compared to traditional NBR materials. HBNR o-rings also feature excellent abrasion, wear, and compression set resistance, making them a reliable o-ring in a wide range of tough applications.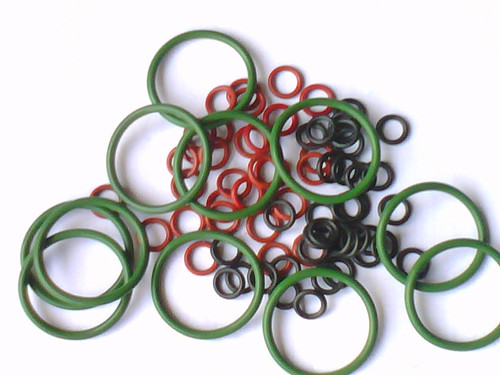 Hydrogenated Nitrile Rubber O-Rings (HNBR)
Highly Saturated Nitrile Green O-rings in 70 durometer. Hydrogenation of nitrile rubber removes most of the residual unsaturation in the polymer to make it far less vulnerable to attack by heat, ozone, and oxygen. In fact, due to superior oil and temperature resistance, Highly Saturated Nitrile can sometimes be substituted for more costly fluorocarbon rubber. It is frequently used in automotive air conditioning systems employing R-134a refrigerants. It exhibits good resistance to petroleum based oils, compression set and a variety of Freons.

The Hydrogenated Nitrile Butadiene Rubber (HNBR) O-ring has quickly grown in importance over the last years, due to its excellent cost-performance balance and use in highly demanding applications such as automotive, industrial applications which require high performance.

HNBR O-ring meets higher temperatures than standard NBR
The HNBR O-ring has recently been developed to meet higher temperatures than standard NBR while retaining resistance to petroleum based oils.

HNBR O-ring has excellent resistance to oils and chemicals
Obtained by hydrogenating the nitrile copolymer, the HNBR O-ring fills the gap left between NBR, EPDM and FKM elastomers where high temperature conditions require high tensile strength while maintaining excellent resistance to oils and chemicals.
Standard O-Ring Material Applications
We offer the following six standard rubber materials in a range of durometer hardnesses to satisfy practically any service condition:

Viton / FKM: Fluorocarbon exhibits exceptional resistance to chemicals, oils, temperature extremes (-13°F to +446°F), low compression set, low gas permeability and excellent aging characteristics. Applications include: aircraft engines, automotive fuel handling systems, and chemical processing industries. FKM is also suitable for high vacuum applications. It is not recommended for exposure to ketones, alkalis, and Skydrol? fluids. Custom compounds are available with improved chemical and low temperature resistance.

Nitrile / NBR: Nitrile (Buna-N) is the most widely used elastomer due to its excellent resistance to petroleum products, operating temperature range (-40°F to +257°F) and one of the best performance-to-cost values. It's an ideal material for aerospace, automotive, propane and natural gas applications. Special Hydrogenated Nitrile (HNBR) compounds can improve resistance to direct ozone, sunlight, and weather exposure while increasing temperature range to +300°F.

Ethylene-Propylene / EPDM: EPDM has outstanding resistance to heat, water and steam, alkali, mild acidic and oxygenated solvents, ozone, and sunlight (-40oF to +275oF); but it is not recommended for gasoline, petroleum oil and grease, and hydrocarbon environments. This popular rubber compound is usually the first choice for low torque drive belt applications.

Fluorosilicone / FVMQ: Fluorosilicone (-75o to +400oF) combines the good high and low temperature stability of silicones with the fuel, oil, and solvent resistance of fluorocarbons. FVMQ is unparalleled for aerospace fuel systems, auto fuel emission control systems and to meet or exceed government, military, aerospace, automotive, industrial and commercial specifications. However, due to relatively low tear strength, high friction and limited abrasion resistance of these materials, they are generally not used in dynamic applications. They are also not recommended for exposure to brake fluids, hydrazine, or ketones.

Silicone / VMQ: In the Silicone family, you will find compounds which are superior as static seals in extreme temperature conditions. Standard compounds handle operating temperatures -85o to +400oF. Silicone compounds are popular in food and medical applications because they are very clean and do not impart odor or taste. Special Phenyl silicones can be used down to -148°F.

Neoprene / CR: Neoprene (-40o to +250oF) is reasonably priced and features good resistance to petroleum oils, ozone, sunlight and oxygen aging, relatively low compression set, good resilience and outstanding physical toughness.
FAQ:
Q: Can you produce as my drawing?
A: Yes, we can produce based on your drawing or sizes.
Q: How long is your delivery time?
A: Generally it is 1-2 days if the goods are in stock. or it is 10-15 days if the goods are not in stock, it is according to quantity.
Q: Do you provide samples ? is it free or extra ?
A: Yes, we could offer the sample for free charge but you need to pay the cost of freight.
Q: What express do you use to send the samples?
A: We usually ship samples by DHL, TNT, FEDEX and UPS. It usually takes 3-5 days to arrive.